Corporate Philosophy
The amana group believes in placing people at the center of its commitment to visual expression.
The creativity that this approach generates enables us to contribute to visual communications in society.
Who We Are
What We Do
The amana group is your content partner.
We are pleased to serve your business's needs for the production, management and application of visual component and content.
We can propose a wide range of visual communication solutions to help you maximize value-added for your business or brand.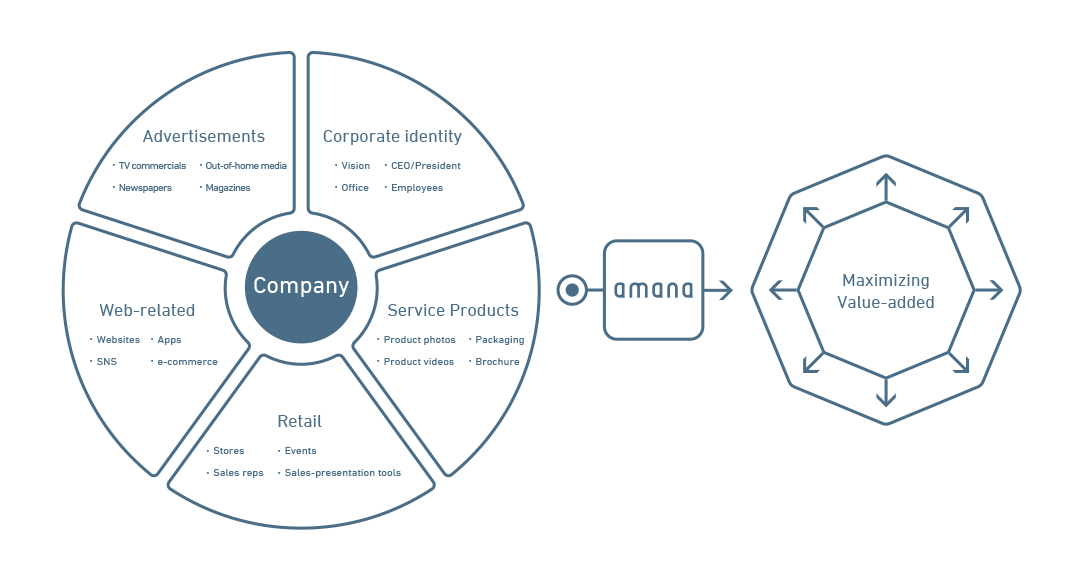 amana's Services
We provide services tailored to your company's issues and needs, focusing on three fields: Stock materials, visual content and communications. We propose best solutions, customizing 60+ amana creative services to cater to various clients' needs.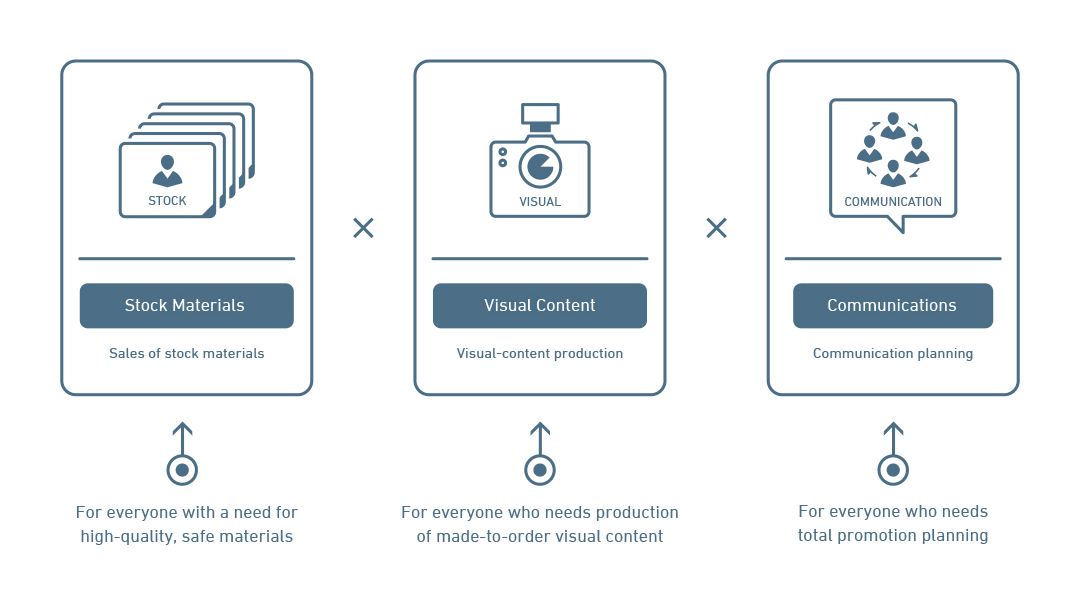 Role Of The Producer
At the amana group, about 400 producers are ready to respond to your visual and other content needs. The strength of it's producers lies in their ability to table highly specialized proposals, backed by production systems tailored to individual industries.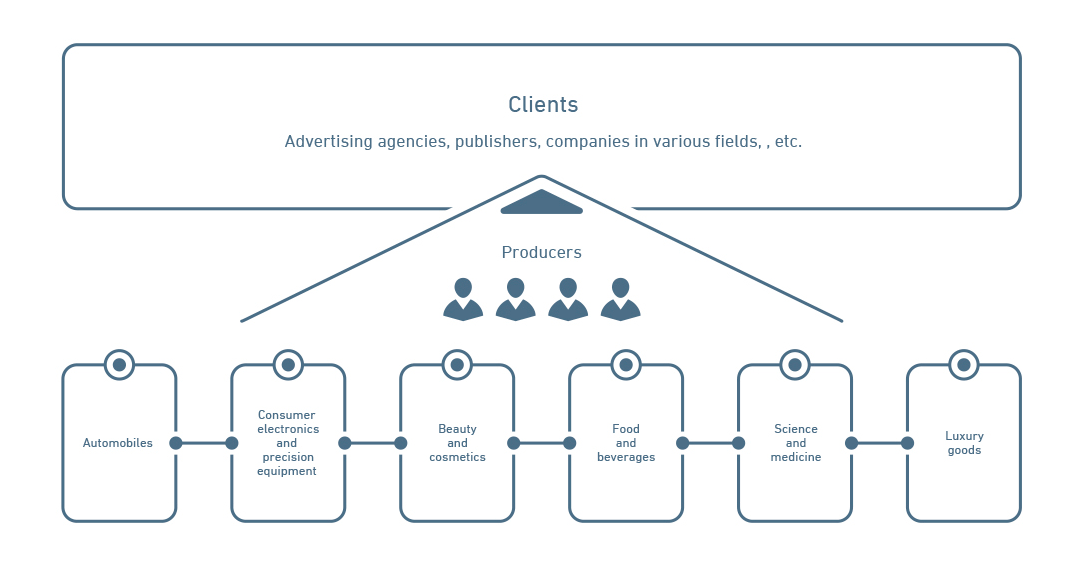 Creative Service
For visual communications that move people's heart.
Leveraging a wealth of expressive power and the latest digital technology to the maximum advantage, we package our client's message for optimum style.
STOCK

Welcome to one of Japan's most extensive libraries of photos, illustrations, videos and other stock content.

Planning and Sales

We plan and sell high-quality stock materials you can use with confidence in a wide variety of applications.These stock materials can be applied to across a full spectrum of creative productions, from advertising and online materials to books, magazines and more.

Rights Services

From copyrights and subject-rights searches to negotiation of user's permissions, we support the safety of your creative work.

Content Database

We apply an original approach to categorize vast volumes of visual materials into an easily searchable database, generating new and exciting ways to make use of content.

Content Production and Editing

Our professional editing team works with visual materials to take them in new directions from a fresh perspective. The result is compelling content which can be applied in a diverse array of media.

Visual Content

The expressive talent of our creative staff and their wealth of accumulated editing skills deliver high-quality visual content.

Still Photography

Backed by photographic expertise accumulated over 30 years, About 50 photographers of Amana with originality and sensitivity turn clients' ideas into eye-catching still photographs.

Movie Production

We offer high-speed, aerial, panorama and other specialized movie capture. With the professional skills which meet client's needs, our staff produces high-quality, video content.

2D Computer Graphics

Creative staff specializing in computer-graphics production works closely with photographers to create the world the client imagines. We drive state-of-the-art digital technology to deliver the appealing visuals.

3D Computer Graphics

High-quality visuals with quick turnaround. From simulations in the development phase to graphics and videos ready for advertising and public-relations use, we furnish solid results in a wide range of media.

Communication

The amana group proposes total communication solutions from content production to event management.

Graphic Design

Today's clients require graphics for a broad spectrum of print media, from newspaper advertisements to corporate brochures. Marshaling expressive visual power as only Amana can, we propose designs that meet clients'needs.

TV Commercials and Movies

Our dedicated teams make Amana client's one-stop solution for a wide range of video-production needs, encompassing TV commercials, online videos and more, from planning and presentation to production.

Websites

We deliver appealing and effective websites. From attracting customers to evaluation and analysis, we offer total planning of client's online presence.

Applications

We can provide clients with tools such as promotional apps and digital catalogues, according to client' s needs. We produce and develop apps supporting all the latest digital devices.

Events

We provide a full gamut of support for exhibitions, receptions and other events, from planning through setup to operation. Using technology-driven planning and other services, We propose plans that will maximize attendee' s engagement with your event.

Editorial Content

Our team of specialist for editing produces owned media, brochures and other printed content for client's company or brand. We also provide writing services for reporting, interviews and many other genres.

Promotion

From mass-media advertisement to Web applications and events in real space and time, We bring together a mix of diverse media in a promotional solution tailored to client's needs.

Branding

For client's strategy of corporate image or branding for an upcoming product, We take a two-pronged approach, establishing the concept that frames the brand while creating visual expressions to serve as its keynote.

Media

From publishing to events, we disseminate information across multiple fronts, drawing principally on magazines we produce and publish.

IMA

IMA is a multimedia information-dissemination project that proposes ways of using photos to make modern living more appealing and fulfilling.This magazine provides readers with a wide range of opportunities to experience the appeal of art photography.

Fasu

Fasu is a lifestyle media for families living in a new era which is diversifying in every dimension, from work styles, ways of living, gender, education, to types of families.

Ryori Tsushin

Ryori Tsushin is a monthly publication that stimulates the antennae of opinion leaders in the world of food trends. Ryori Tsushin offers selected information about food to everyone seeking a deeper enjoyment of their relationship with what they eat.

NATURE&SCIENCE

Planning and sales of high-quality stock material available with confidence in any application. Advertising and Web, such as publications, you can take advantage in a variety of creative production.
Company Profile
Company Name

amana inc.

Representative

Hironobu Shindo, President and Group CEO

Headquarter

2-2-43, Higashishinagawa, Shinagawa-ku, Tokyo, Japan
+81-3-3740-4011

Established

April 28, 1979

Capital Fund

¥100 million

Listed Stock Exchange

Tokyo Stock Exchange (TSE) |
Growth Market (Code: 2402)

Total Revenue

¥14,165 million


*consolidated results for the year ended December 31, 2022

Number of Employees

820 (consolidated)

*As of January, 2023

Website

https://amana.jp/en/
Main Businesses

Visual Communication Business


Strategy planning and designing for marketing / communication arena, brand design and activation, inner communication planning, contents marketing, contents production and editing, prototyping, movie and graphic design and productions, website production, and other marketing- and promotion-related planning and execution plan proposals, etc.

Group Companies

amana photography inc.
needsplus Inc.
The Culinary Laboratory & Production Inc.
amanacliq Asia Limited
amanacliq Shanghai Limited
amanacliq Singapore Pte. Ltd.
directions to amana group
TENNOZ OFFICE
2-2-43 Higashisihnagawa Shinagawa-ku Tokyo 140-0002
Tel:03-3740-4321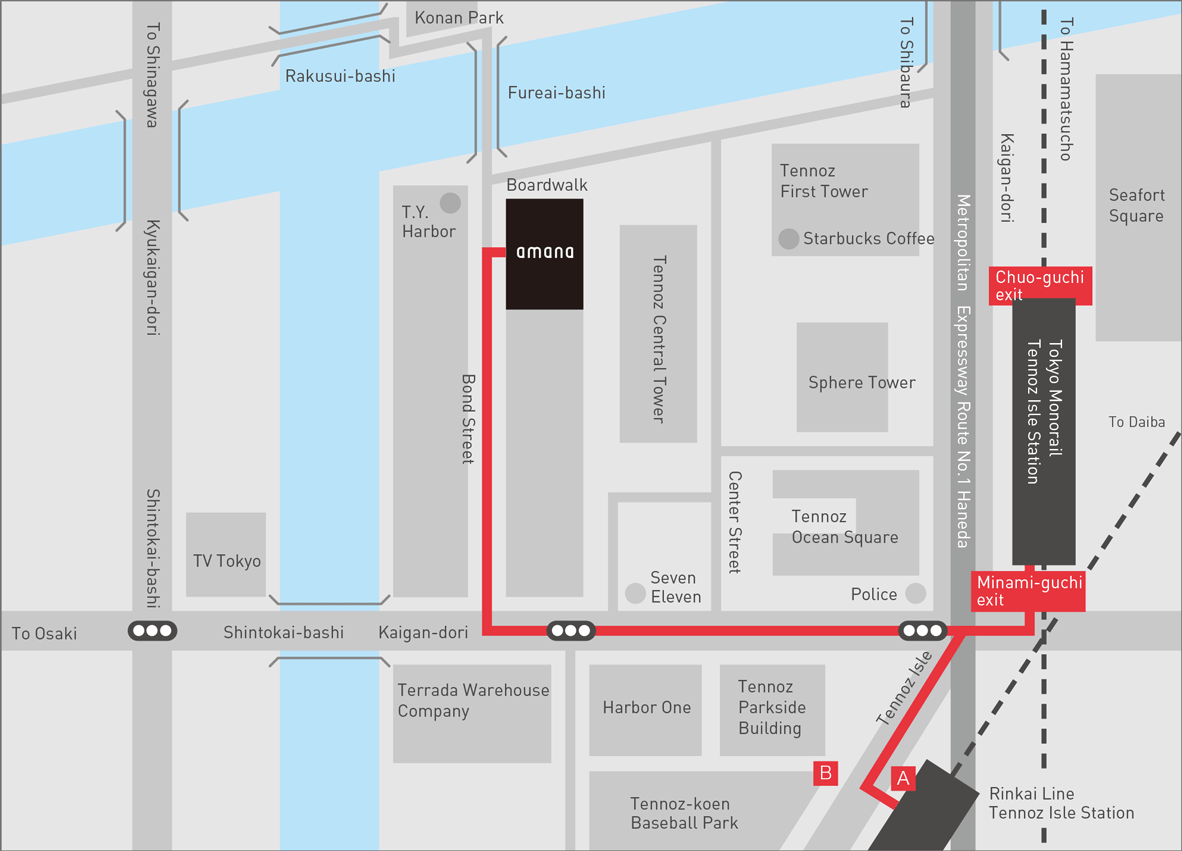 By Public Transportation
From Tennoz Isle Station:
Tokyo Monorail

Use Minami-guchi exit and turn right.
Cross Shinagawafuto-Iriguchi crossing.
Turn right at Bond Street. 5 minutes walk.

From Tennoz Isle Station:
Rinkai Line

Use B exit and turn left.
Turn left at Shinagawafuto-Iriguchi crossing.
Turn right at Bond Street. 5 minutes walk.
By Car
From Shinagawa Area

Follow Kyukaigan-dori towards Showajima or Heiwajima area.
Turn left at Shintokai-bashi crossing, and cross the Shintokai-bashi bridge, and turn left at Bond Street.
From Gotanda / Osaki Area

Follow Yamate-dori towards Shinagawa Pier or Tennoz area.
Pass Shintokai-bashi crossing, cross the Shintokai-bashi bridge, and turn left at Bond Street.